However, there are several other signs to look for that can show if a car is having any type of moderate to serious engine issues. Because engines are expensive to replace and vehicles are virtually useless without a good engine, it's crucial to maintain your engine in the best possible condition and make repairs as soon as you notice an issue. Therefore, how do you check the health of an engine?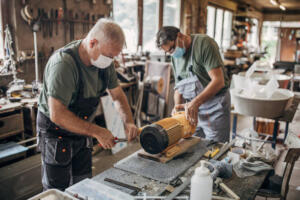 Verify the fluid levels in the car
One of the best markers of an engine's health is its fluids. The oil must be full, transparent, and brown. It shouldn't have a burnt smell, or be milky, clumpy, or discolored, all of which are indicators of potential engine issues.
Detect leakage
Leaks are an indication that there is a problem with the car or engine. Any region of the engine where you detect fluid accumulating should be examined by a reliable mechanic. The car is left overnight parked on a relatively spotless concrete parking pad.
Start the vehicle
Listen to the engine while it runs; the car should start easily without any stuttering, banging, or stalling. The engine shouldn't smoke or create any noises like tapping, knocking, or pinging. Keep an eye on the exhaust and look for any odd releases of gas.
Take the wheel of the vehicle
Take note of the vehicle's acceleration, braking, and speed maintenance. Pay attention to any odd bumps, knocks, or squeaks. If the vehicle lags or exhibits any signs of difficulty pay close attention. Keep a close eye on gauges to ensure that they all operate within a regular range.
Have the engine's compression checked by a mechanic if you take the car to one
The compression check determines whether the engine has the proper pressure. Loss of compression in an engine is an indicator of more serious issues, such as issues with the cylinders, rings, or valves.